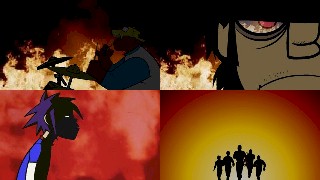 911 is a Gorillaz's music video back in 2002 featuring D12. This song is a tribute to the twin tower crash that happened on September 11, 2001.
Credits
Unknown. Probably made by Matt Watkins and Tim Watkins, the members of Zombie Flesh Eaters.
Synopsis
Gorillaz are seen playing while fire burns all around them. D-12 run into the scene from a distance.
Additional Information
This clip is short, around a minute long. All of Gorillaz' appearances are cut in from previous videos ("Clint Eastwood", "19/2000", "Tomorrow Comes Today"). This clip appeared on the Gorillaz website around the time the track 911 was released for download. The backing soundtrack is part of the 911 song.
Availability
Available at www.gorillaz.com/911.
Ad blocker interference detected!
Wikia is a free-to-use site that makes money from advertising. We have a modified experience for viewers using ad blockers

Wikia is not accessible if you've made further modifications. Remove the custom ad blocker rule(s) and the page will load as expected.