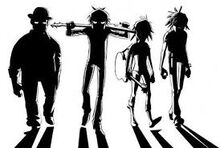 Crystallized is a cover by Gorillaz of the song of the same name by the British indie pop band, The xx. The song has yet to be released on an album.
Lyrics
You apply the pressure, to help me crystallize
Then you cut the face, that I could been paradise
I forgive and forget the four arm power lines
Do I have to keep up this space to keep you satisfied?
You don't move slow taking steps in my direction
The sound sounds... does it listen to your affection?
Your symphony... 
But don't burden own, I won't leave alive ...
I wish the time will take me over
I've been down on my knees and you just keep on getting closer
Video