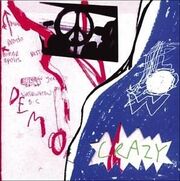 Democrazy is an EP album of demos created by Damon Albarn. It contains 14 tracks that are separated into 2 discs, with Disc 1 containing 8 tracks and Disc 2 containing 6 tracks.
Backstory
During Blur's US leg of the Think Tank tour, Damon Albarn recorded these songs in the hotels that he stayed in while touring. He later decided to publish his project. The finished album was later showcased at London's Neighborhood club. He later extended and added more elements to the song "I Need a Gun" to create Gorillaz hit single, Dirty Harry. Another song called "A Rappy Song" was misinterpreted as an unnamed collaboration with Bootie Brown and Cee-Lo Green.
The songs on this album are said to be "sketchy" and most of them are clearly unfinished as the music will completely turn off at the end of a track.
Release Date and Chart Position
12/08/03 -- highest chart position: unknown
Tracklist
Disc One
Reedz
Half a Song
Five Star Life
A Rappy Song
Back to Mali
I Miss You
Hymn to Moon
Disc Two
Dezert
Sub Species of an American Day
American Welfare Poem
Saz Theory Book
Gotta' Get Down With the Passing of Time
End of Democrazy
Trivia
This was only available as a vinyl double EP
This was Damon Albarn's first solo project as his second solo album, Dr Dee, wasn't released about nine years later (2012)
The album received mixed-to-negative reviews by music critics
Ad blocker interference detected!
Wikia is a free-to-use site that makes money from advertising. We have a modified experience for viewers using ad blockers

Wikia is not accessible if you've made further modifications. Remove the custom ad blocker rule(s) and the page will load as expected.