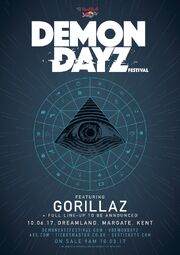 Demon Dayz Festival is a live Gorillaz performance that was held on June 10th, 2017 and was sponsored by Red Bull. The event was announced on March 6th, 2017 and was held at the Dreamland amusement park in Margate, Kent, England.
Line-Up
The lineup for the Demon Dayz Festival included Noel Gallagher, and everyone that collaborated on Humanz, such as Mavis Staples, Carly Simon, Grace Jones, De La Soul, Savages' Jehnny Beth, Pusha T, Danny Brown, Vince Staples, Kelela, D.R.A.M., as well as collaborators from previous albums.
Availability
Ticketing for the event sold out on March 10th, 2017; the same day that ticketing was announced. The event was livestreamed from the Red Bull TV website on the day of the festival with more details being posted on Red Bull Music in the days leading up to it.
External Links
Trivia