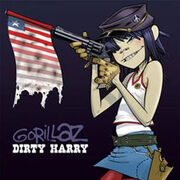 "Dirty Harry (Demo)", also called "I Need a Gun", is the demo version of "Dirty Harry".
Backstory
Originally a demo called "I Need a Gun" from Damon Albarn's 2003 solo album, Democrazy, Gorillaz made this into their hit single, "Dirty Harry", from Demon Days. Damon claimed that some of the songs from that album were meant for Gorillaz, and this was one of them.
The demo consists of a different beat and only the beginning of the released version. The rap section with Bootie Brown, the vocals from the San Fernandez Youth Choir, and the violin part were added in later for the final version.
Lyrics
I need a gun to keep myself among
The poor people are burning in the sun
But they ain't got a chance, they ain't got a chance
I need a gun 'cause all I do is dance
'Cause all I do is dance
I need a gun to keep myself among
The poor people are burning in the sun
No, they ain't got a chance, they ain't got a chance
I need a gun 'cause all I do is dance
'Cause all I do is dance