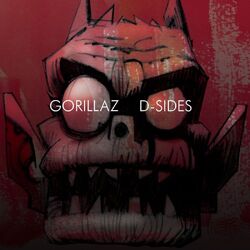 Don't Get Lost In Heaven (Original Demo Version) is the 12th track of the Gorillaz' 2007 album D-Sides. It was originally released on the DVD format of the El Mañana/Kids With Guns single.
Lyrics
Got off a plane to the countryside,
I drove to the mountain and holding the ground
There was crack on the corner and someone dead,
and fire coming out of the monkey's head

[Chorus:]
Don't get lost in heaven
They got locks on the gate
Don't go over the edge
you'll make a big mistake

Put me in a cab to suburbia
I just took a line but I wasn't with you
There was more of it there, when I got back home
But you had left me,you don't know my soul...
You're a whole bad mistake,yeah,you're a whole one...

[Chorus]
Aaaah...
Ad blocker interference detected!
Wikia is a free-to-use site that makes money from advertising. We have a modified experience for viewers using ad blockers

Wikia is not accessible if you've made further modifications. Remove the custom ad blocker rule(s) and the page will load as expected.