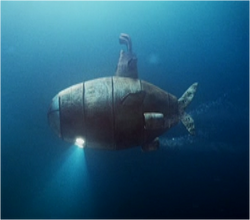 The Submarine in the "Doncamatic" video was a one-man submarine driven by Daley while he was going on his journey to join Gorillaz and the rest of the collaborators on Plastic Beach.
It appears on the cover art for "Plastic Beach", on the very far right, half submerged, as well as on the inside of the CD case, submerged underwater, next to the beach, and finally, on the physical CD included with the album, however it is simply a closer version of the one included on the cover art.
The submarine then appears in the "DoYaThing" video as a cameo appearance behind 2-D as he goes to the living room.
It also appears on a few artworks of Phase 3 and is a part of the great Plastic Beach model used to promote the album.
It seems to be powered by the music of the Doncamatic, as we need this instrument to make it work in the 2nd mission of the official Plastic Beach game, and as Daley use it in the "Doncamatic" video.
Ad blocker interference detected!
Wikia is a free-to-use site that makes money from advertising. We have a modified experience for viewers using ad blockers

Wikia is not accessible if you've made further modifications. Remove the custom ad blocker rule(s) and the page will load as expected.