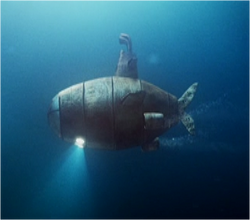 The Submarine in the "Doncamatic" video was a one-man submarine driven by Daley while he was going on his journey to join Gorillaz and the rest of the collaborators on Plastic Beach. It appears to be powered by the music of the Doncamatic, as in the official Plastic Beach game, you drive using the Doncamatic.
Appearances
It appears on the cover art for Plastic Beach, on the very far right, half submerged, as well as on the inside of the CD case, submerged underwater, next to the beach, and finally, on the physical CD included with the album, however it is simply a closer version of the one included on the cover art.
The submarine then appears in the "DoYaThing" video as a cameo appearance behind 2-D as he goes to the living room.
It also appears on a few artworks of Phase 3 and is a part of the great Plastic Beach model used to promote the album.