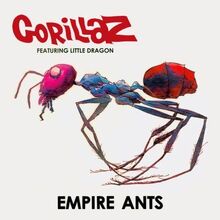 Empire Ants is the 7th track of the Gorillaz' 2010 album Plastic Beach and is the first track on Plastic Beach to feature Little Dragon, specifically Yukimi Nagano.
Content
Band member Murdoc Niccals stated the following about "Empire Ants" in a track-by-track commentary:
"A moment's peace amongst the rush. I sampled a lot of this from the theme music to Tomorrow's World, and the vocalist is Yukimi Nagano from Little Dragon, an electronic band from Sweden."
"It was actually 2-D who got me into Little Dragon. He played me this lovely song of theirs called 'Twice', which he first heard on the TV show Grey's Anatomy."
Lyrics
Oh joys arise, the sun has come again to hold you
Sailing out the doldrums of the week
The polyphonic prayer is here
It's all around you
It's all around you out here

And if the whole world is crashing down
Fall through space out of mind with me

Where the emptiness we leave behind on warm air rising
Blows all the shadows far away
The falling alcohol empire is here to hold you
Rolling out and haunted till it sleeps

Little memories marching on
Your little feet, working the machine
Will it spin, will it soar?
My little dream working the machine
Soon like a wave
Empires will fall
And closing in, on the womb
Of who you are
Little memories, your little feet, working the machine
Will it spin will it soar?
My little dream working the machine
Soon like a wave
Empires will fall
And closing in, on the womb
Of who you are
Music Video
References
↑

"Plastic Beach [Japanese experience edition]", TOCP-66950, booklet p.17