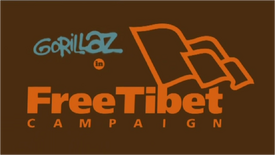 "Free Tibet" is a G-Bite short from the "Phase One: Celebrity Take Down" compilation DVD.
Appearances
Tibetans
People walking past
Transcript
There is no script. Simply 2D meditating on a busy street corner with other Tibetans. At the end of the Bite, the screen shows this text:

Free Tibet Campaign stands for the Tibetans' right to determine their own future. It campaigns for an end to the Chinese occupation of Tibet and for the Tibetans' fundamental human rights to be respected.

www.freetibet.org
Videos
Ad blocker interference detected!
Wikia is a free-to-use site that makes money from advertising. We have a modified experience for viewers using ad blockers

Wikia is not accessible if you've made further modifications. Remove the custom ad blocker rule(s) and the page will load as expected.