Gorillaz released many collectible limited edition figures with different companies.
History
The history begins with Art Asylum. Large plans were made for the Gorillaz license; each figure was rotocast vinyl, roughly in the 10" scale, came in an elaborate box-stlye package, and had individual accessories, such as pets and instruments. First displayed at Toy Fair 2002, the lineup included 2-D, Murdoc, Russel, Noodle, and a Zombie Gorilla.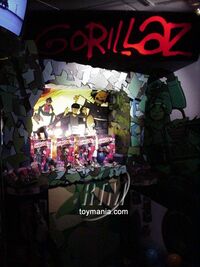 This series of toys, however, never saw the light of day. The first sign was the cancellation of the Zombie Gorilla, made evident by the fact he was not to be included in the shipment listings. Sooner than later, it was apparent that the rest of the line had been cancelled, as well.
In 2005, KidRobot eventually created an extremely similar array of figures. Though practically parallels to Art Asylum's original collection, minor differences reveal them to be ever so slightly different; either KidRobot had access to the original figures as reference points for the new sculpts, or modified the initial sculpts themselves to suit what enhancements they felt were necessary.
KidRobot released two versions of the Phase One set; "Black", and "Red". Each of the characters came with a sticker sheet. They also produced a "DARE" edition of Noodle.
2006 brought KidRobot's fully original follow-up wave of figures for Phase 2. Three versions were released; "CYMK", "White", and "2-Tone".
An unknown company was going to offer a Stylo car for G-Club Subscribers, but was unfortunately cancelled.
Gallery
Ad blocker interference detected!
Wikia is a free-to-use site that makes money from advertising. We have a modified experience for viewers using ad blockers

Wikia is not accessible if you've made further modifications. Remove the custom ad blocker rule(s) and the page will load as expected.