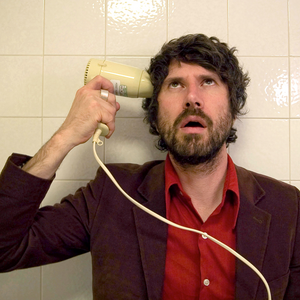 Gruffydd Maredudd Bowen Rhys (b. July 18, 1970 in Haverfordwest) is a Welsh musician, composer, producer, filmmaker and author.
He performs solo and with several bands, including Super Furry Animals who obtained mainstream success in the 1990s. He formed the electro-pop outfit Neon Neon with Boom Bip. Their album Stainless Style was nominated for the 2008 Nationwide Mercury Prize. He won the 2011 Welsh Music Prize for his album Hotel Shampoo. His latest solo album, American Interior, was released in May 2014, accompanied by a film, a book and a mobile app.
He collaborated with De La Soul on the Gorillaz track "Superfast Jellyfish". The track is on the third Gorillaz studio album, Plastic Beach. Rhys and British post-punk band The Horrors also worked on the unreleased and lost song "Leviathan", which was supposed to be on the Plastic Beach album, but never saw the light of day.
Discography
Studio albums
Yr Atal Genhedlaeth (25 January 2005)
Candylion (8 January 2007)
Hotel Shampoo (14 February 2011)
American Interior (5 May 2014)
Gallery
Ad blocker interference detected!
Wikia is a free-to-use site that makes money from advertising. We have a modified experience for viewers using ad blockers

Wikia is not accessible if you've made further modifications. Remove the custom ad blocker rule(s) and the page will load as expected.