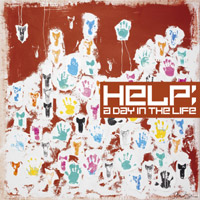 Help! A Day In The Life was the second music album released to benefit the charity Warchild (which works to help children affected by war around the world).
The first was entitled simply 'Help' and was released in 1995 (Damon Albarn appeared as part of Blur (there were also tracks by future Gorillaz collaborators Terry Hall and Neneh Cherry). Both albums had a similar format: each featured 20 or so tracks, each contributed by prominent, mostly UK, artists. The tracks were exclusive to the compilations, and also the idea was that they would all be recorded on a particular day. The day for 'Help: A Day In The Life' was designated as 8th September. Gorillaz contributed the track 'Hong Kong' which was recorded during a visit to the counrty of the same name. 'Help: A Day In The Life' was released as a download album just one day after the tracks were recorded, and a CD release followed a few weeks later.
Release dates and chart positions
UK: 26/09/05 – highest chart position: -
Ad blocker interference detected!
Wikia is a free-to-use site that makes money from advertising. We have a modified experience for viewers using ad blockers

Wikia is not accessible if you've made further modifications. Remove the custom ad blocker rule(s) and the page will load as expected.