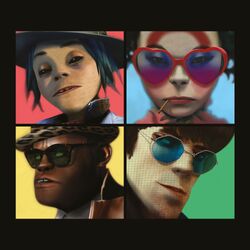 Humanz is the name of the fifth studio album by the band Gorillaz released on April 28, 2017.
The album features the song "Hallelujah Money" that was released on Inauguration Day.
Background
The album was announced on the band's official Instagram page on March 23, 2017. According to a press release, the album was recorded in London, Paris, New York, Chicago and Jamaica and produced by Gorillaz, The Twilite Tone and Remi Kabaka. It is the band's first studio album since 2010's The Fall and features collaborations from several popular artists including Vince Staples, Popcaan, D.R.A.M, Grace Jones, Anthony Hamilton, De La Soul, Danny Brown, Kelela, Mavis Staples, Pusha T and Benjamin Clementine.
Release Dates and Chart Positions
UK: 28/04/17 - TBD
USA:4/28/17
JAPAN:
AUS:
Track Listing
The full track list was leaked on March 21, with an official listing released on March 23. The Standard edition of the album consists of 20 tracks, 5 of which are interlude tracks, with the Deluxe edition containing an extra 6 tracks, which includes a 6th interlude.
Intro: I Switched My Robot Off
Ascension (feat. Vince Staples)
Strobelite (feat. Peven Everett)
Saturnz Barz (feat. Popcaan)
Momentz (feat. De La Soul)
Submission (feat. Danny Brown & Kelela)
Charger (feat. Grace Jones)
Interlude: Elevator Going Up
Andromeda (feat. D.R.A.M.)
Busted and Blue
Interlude: Talk Radio
Carnival (feat. Anthony Hamilton)
Let Me Out (feat. Mavis Staples & Pusha T)
Interlude: Penthouse
Sex Murder Party (feat. Jamie Principle & Zebra Katz)
She's My Collar (feat. Kali Uchis)
Interlude: The Elephant
Hallelujah Money (feat. Benjamin Clementine)
We Got The Power (feat. Jehnny Beth)
Deluxe Edition Bonus Tracks:
The Apprentice (feat. Rag'n'Bone Man, Zebra Katz & RAY BLK)
Halfway To The Halfway House (feat. Peven Everett)
Out Of Body (feat. Kilo Kish, Zebra Katz & Imani Vonshà)
Ticker Tape (feat. Carly Simon & Kali Uchis)
Circle Of Friendz (feat. Brandon Markell Holmes)