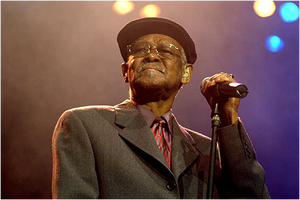 Ibrahim Ferrer (February 20, 1927 – August 6, 2005) was a popular Afro-Cuban singer and musician in Cuba. He performed with many musical groups including the Conjunto Sorpresa, Orquesta Chepin-Choven and Afro-Cuban All Stars. Later in life, Ferrer became a member of the internationally successful Buena Vista Social Club.
Appearances
He appeared on the track "Latin Simone (¿Qué Pasa Contigo?)" on the self-titled debut album of Gorillaz.
In 2005, Gorillaz made a tribute to him playing the song he featured: Latin Simone.