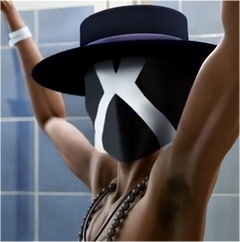 The Masked Figure is a character that represents André 3000 in the DoYaThing music video.
He appears everywhere around the house of 212 Wobble Street, London, SW21 7QJ where the Gorillaz were staying at after when Plastic Beach got destroyed.
He was seen in the bathroom on the same floor as Noodle and Murdoc's room, where blue skinned "sweat collectors" were collecting his sweat.
He appears in one of the cupboards in the kitchen after when 2D opens it and then closes it on masked man's fingers.
He finally appears inside the fridge after when 2D opens it up and offers 2D the milk and jam.
Ad blocker interference detected!
Wikia is a free-to-use site that makes money from advertising. We have a modified experience for viewers using ad blockers

Wikia is not accessible if you've made further modifications. Remove the custom ad blocker rule(s) and the page will load as expected.