The ident features Murdoc Niccals as he introduces the bands new video from "Demon Days".
Transcript
Murdoc: Hi, this is Murdoc Niccals, demon bass player of Gorillaz.
The extended version bit
Murdoc: And uh your watching...Whats it called?
(While Murdoc wiggles his tongue out)
Mexican Jailbird: I thinks its called..."use".
Murdoc: Oh yeah, yeah hmm, okay hmm.
Murdoc: Coming up our new kick ass Gorillaz video. Hey listen, when do I get out of here?
Mexican jailbird: Not for a looong time my friend (laughs evilly while putting on medical gloves).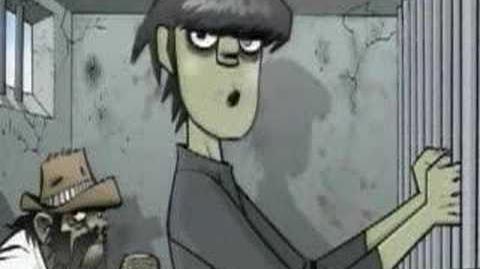 Ad blocker interference detected!
Wikia is a free-to-use site that makes money from advertising. We have a modified experience for viewers using ad blockers

Wikia is not accessible if you've made further modifications. Remove the custom ad blocker rule(s) and the page will load as expected.