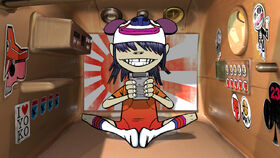 The ident features Noodle as she introduces the bands new video "DARE".
Transcript
(Noodle plays a mobile game in capsule hotel)

Noodle: Hello, My name is ヌードル. [Nudoru] (Noodle)
Guitar player with...uh...Gorillaz band! Coming up with the video from new song.

[Noodle throws the game]

Noodle: なんやねんこのゲームあほったれー!ウチを舐めとんのかー!?
[Nan'ya nen kono gēmu ahottare! Uchi o name ton no ka!?]
(What the fucking game! Is it messing with me!?)
Ad blocker interference detected!
Wikia is a free-to-use site that makes money from advertising. We have a modified experience for viewers using ad blockers

Wikia is not accessible if you've made further modifications. Remove the custom ad blocker rule(s) and the page will load as expected.