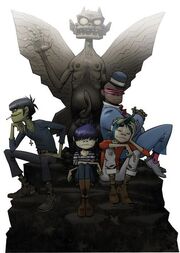 Pazuzu is a statue that appears at many places around Kong Studios, like in Murdoc's old Winnebago, outside the studios, on t-shirts and in the Rock it video. Pazuzu is a Sumerian-babylonian demon god. He's revered by Murdoc. Murdoc has a scepter with the head of Pazuzu.
Trivia
Pazuzu's design was based on the statue from The Exorcist.
Pazuzu appears in the Rhinestone Eyes storyboard as the Boogieman runs and hides behind the statue from Cyborg Noodle.
Ad blocker interference detected!
Wikia is a free-to-use site that makes money from advertising. We have a modified experience for viewers using ad blockers

Wikia is not accessible if you've made further modifications. Remove the custom ad blocker rule(s) and the page will load as expected.