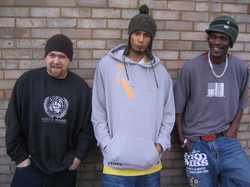 Phi Life Cypher
is a British hip hop group based in Luton, comprising two MCs, Si Phili and Life MC, and DJ Nappa.
Gorillaz
Phi Life Cypher featured on an earlier version of Clint Eastwood. However Damon Albarn and Dan The Automator decided to use Del the Funky Homosapien instead. This version was later officially released on G-Sides, a compilation of the B-sides from the first three singles which was released in Japan and quickly followed with international releases in early 2002. Phi Life Cypher, did however perform the track with Gorillaz at the Brit Awards, featuring the band in 3D animation, weaving in and out of each other on four large screens along with their rap accompaniment. Phi Life Cypher also collaborated with Gorillaz on The Sounder and an unreleased version of Starshine.
The group has toured with and appeared on tracks by Gorillaz and DJ Vadim.
Ad blocker interference detected!
Wikia is a free-to-use site that makes money from advertising. We have a modified experience for viewers using ad blockers

Wikia is not accessible if you've made further modifications. Remove the custom ad blocker rule(s) and the page will load as expected.