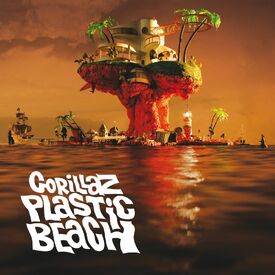 Plastic Beach is the third studio album released by Gorillaz.
Conceived from an unfinished Gorillaz project called Carousel, the album was recorded during June 2008 to November 2009 and produced primarily by group co-creator Damon Albarn. It features guest appearances by several artists, including Gruff Rhys, Bobby Womack, Mos Def, Lou Reed, Mark E. Smith, Snoop Dogg, Mick Jones, and the Hypnotic Brass Ensemble. Primarily a pop album, Plastic Beach contains lyrics concerning consumerism and ecology-related themes.
The album has produced four singles, "Stylo", "Superfast Jellyfish" (promo only), "On Melancholy Hill", and "Rhinestone Eyes". "White Flag" also appeared as a limited edition single for Record Store Day.
Release dates and chart positions
UK: 03/03/10 – highest chart position: 2
USA: 03/03/10 – highest chart position: 2
JAPAN: 03/03/10 - highest chart position: 17
Basic Track-listings
Standard Edition
Experience Edition 1. Orchestral Intro [1:09]
2. Welcome to the World of the Plastic Beach [3:36]
3. White Flag [3:43]
4. Rhinestone Eyes [3:20]
5. Stylo [4:31]
6. Superfast Jellyfish [2:55]
7. Empire Ants [4:44]
8. Glitter Freeze [4:03]
9. Some Kind of Nature [3:00]
10. On Melancholy Hill [3:54]
11. Broken [3:17]
12. Sweepstakes [5:20]
13. Plastic Beach [3:47]
14. To Binge [3:56]
15. Cloud of Unknowing [3:06]
16. Pirate Jet [2:32]
DVD: The Making of Plastic Beach
Making of Featurette
Bonus Tracks
1st Edition Bonus track: "Pirate's Progress" - 4:03
iTunes Deluxe Edition Bonus track: Pirate's Progress - 4:03
Bonus track: "Three Hearts, Seven Seas, Twelve Moons" - 2:15
Gallery
Making of Plastic Beach
Trivia
Plastic Beach is currently the only Gorillaz album to feature the band's studio/home on the cover art.

It is also the second album not to feature any of the members on the cover. The first being D-Sides.

The booklet artwork for the album has an image of 2D sitting on a boat holding a picture frame containing the artwork to David Bowie's 1971 album Hunky Dory.
Plastic Beach

Standard album content

Bonus tracks