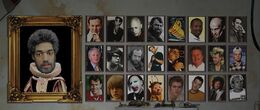 The Room of Brians was a room located in the unmarked section of the Kong Studios basement during Phase 2.
Description
The Room of Brians referred to a wall with 25 portraits all of which depicted famous people or characters with Brian in their names. The room previously served as a German radio communications bunker during World War II. There is a corpse of an unnamed Nazi officer resting on the counter of the radio set. In the left corner of the room, a broken computer can be found beside a stack of Nazi gold. The radio is playing a looping distress call from Noodle (post-El Mañana Incident).
See Also
Ad blocker interference detected!
Wikia is a free-to-use site that makes money from advertising. We have a modified experience for viewers using ad blockers

Wikia is not accessible if you've made further modifications. Remove the custom ad blocker rule(s) and the page will load as expected.