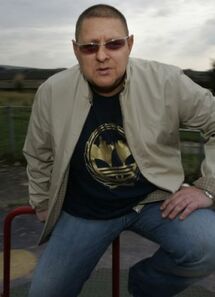 Shaun William Ryder (aka X; born 23 August 1962, Little Hulton, Salford) is an English vocalist and songwriter and an ex-postman who became famous in the "Madchester" era with his work with his main musical group The Happy Mondays.
Involvement with Gorillaz
In 2005, Ryder collaborated with the Gorillaz on "DARE", a song on their "Demon Days" album. In the music video, he is featured as a large disembodied head kept alive through a series of tubes and electronic wires, living in animated band member Noodle's closet. It was stated by the commentator on the 2006 BRIT Awards that the song's name came from Ryder's inability to pronounce the word "there".
As with other Gorillaz related endeavors, Murdoc seems to be a fan and a close friend with Ryder.
Gallery
Ad blocker interference detected!
Wikia is a free-to-use site that makes money from advertising. We have a modified experience for viewers using ad blockers

Wikia is not accessible if you've made further modifications. Remove the custom ad blocker rule(s) and the page will load as expected.