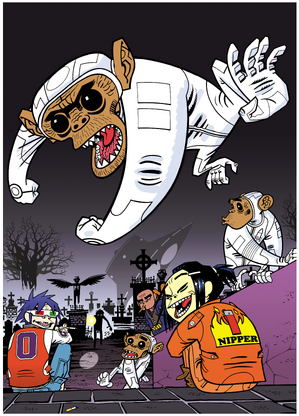 Spacemonkeyz were a virtual musical group consisting of Darren Galea, Richie Stevens and Gavin Dodds. The virtual members are called, D-Zire, Dubersive and Gavva.
They came together when Galea created a dub remix of the single, "Tomorrow Comes Today" ("Tomorrow Dub", which was released as a B-side on the "Tomorrow Comes Today" single), which Damon Albarn liked so much that he asked Galea to remix the whole album Gorillaz.
According to the band's autobiography Rise of the Ogre, The Space Monkeys broke into Kong Studios in 2002 while Gorillaz were on tour and stole the master tapes to their Gorillaz album. 2-D accidentally forgot to lock the studio doors. Gorillaz discovered this while signing autographs backstage at the Isle of MTV Festival in Portugal. Murdoc was handed a record to sign by a fan which he didn't recognize. It was "Laika Come Home" by Spacemonkeyz. Despite what the Spacemonkeyz did, Gorillaz praised the album.
The resulting album, Laika Come Home, was released in July 2002. The album's first and only single "Lil' Dub Chefin'" reached #73 on the UK Singles Chart.
Discography
Albums
2002: Spacemonkeyz vs Gorillaz – Laika Come Home
Singles
2002: Spacemonkeyz vs Gorillaz – "Lil' Dub Chefin'"
2002: Herbert Grönemeyer – "Mensch" (Spacemonkeyz Remix)
Sources
https://en.wikipedia.org/wiki/Spacemonkeyz
Ad blocker interference detected!
Wikia is a free-to-use site that makes money from advertising. We have a modified experience for viewers using ad blockers

Wikia is not accessible if you've made further modifications. Remove the custom ad blocker rule(s) and the page will load as expected.