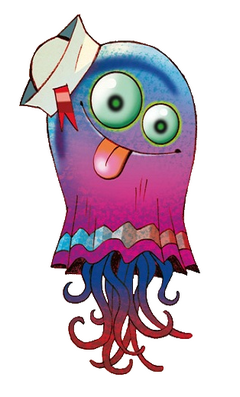 The Superfast Jellyfish are creatures that swim around Plastic Beach. You can have them for breakfast every morning at 6 o'clock, as shown in the Superfast Jellyfish Video. They have blue heads that gradually fades to pink with a blue and pink wave stripe through the lower part of their bodies. They have blue tentacles that also fade into pink. Their eyes are a luminescent green color, likely caused by the landfill in plastic beach. They commonly stick out their tongues and wear a white sailors hat with a red ribbon. Their bodies also resemble wrappers.
Appearances
They appear in "On Melancholy Hill" and cameo appearances in "Stylo" & "Doncamatic". They are also the subject of the song Superfast Jellyfish.
In "On Melancholy Hill", the Gorillaz and the other collaborators were traveling with each other back to Plastic Beach, when suddenly they saw a swarm of Superfast Jellyfish up ahead. The jellyfish were sucked into some of the submarines turbines like De La Soul's (who were featured in the Superfast Jellyfish song). Two or Three of the Jellyfish can be seen in artwork for the Evangelist.
Gallery