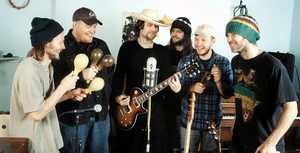 The Bees (known in the United States as A Band of Bees) are an English band from Ventnor on the Isle of Wight. Although their sound is generally classified as indie rock or psychedelic rock, the band have a colourful range of styles and influences, such as 1960s garage rock, country, reggae and jazz.
In 2005, they were featured in the Gorillaz song "Bill Murray", a track from the "D-Sides" album.
Ad blocker interference detected!
Wikia is a free-to-use site that makes money from advertising. We have a modified experience for viewers using ad blockers

Wikia is not accessible if you've made further modifications. Remove the custom ad blocker rule(s) and the page will load as expected.