"
The Eel
" is a G-Bite short from the "
Phase One: Celebrity Take Down"
compilation DVD
.
Character Appearance
Transcript
[Murdoc enters looking very unhappy, to find 2-D hitting something in the sink with a mallet]
Murdoc: For the love of sweet Satan, my hea... OH!
Murdoc: What is that banging!? Stop that banging!
2-D: It's this eel! Russel told me to knock it out 'cos he's gonna cook it for s...
Murdoc: STOP IT BANGING! STOP IT BANGING!!
[2-D goes into a sudden state of panic]
2-D: I can't catch it, look! It's all slippery! I can't, I can't, can't, can't, kill it!
Murdoc: Can't kill it!? What do you mean you can't kill it!?
Murdoc: I'll show you how to kill an eel, you grab the damn thing and you melt it's face!
2-D: NO, NO, NO! NO! NO, NO!
[2-D bites his nails at an alarming speed while Murdoc struggles with the eel in front of a hob]
Murdoc: MELT ITS FACE! MELT ITS FACE!
[Russel enters, looking impatient]
Russel: Hey yo, Muds, where my eel at? Where my eel? Where my eel!?
Murdoc: It don't feel too good. He feel... "eel", hehe.
Video Official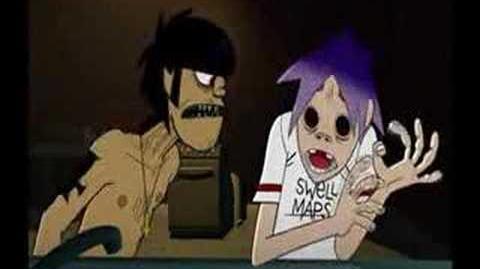 Trivia
2-D had his left hand in the sink while hammering the eel (properly holding onto it). He then tells Murdoc later on that he can't catch it.
Noodle has a cameo appearance in this G-Bite as a fridge magnet.
Ad blocker interference detected!
Wikia is a free-to-use site that makes money from advertising. We have a modified experience for viewers using ad blockers

Wikia is not accessible if you've made further modifications. Remove the custom ad blocker rule(s) and the page will load as expected.