This page is a mess, does not meet Gorillaz Wiki standards, and requires overall cleanup.


---

Please help fix this article to make it meet proper standards by clicking the edit button.
What is the True bix?
As far as the webpage www.theonetruebix.com reveals the true bix is a "Sixteen-year resident of the Portland of Oregon born forty three years ago in upstate New York". More information on the True Bix is at www.theonetruebix.com
The True Bix and Gorillaz
What does this have to do with Gorillaz? When in 2D's bedroom on Gorillaz.com (The interactive Plastic Beach game) you can see a Book on the lower right corner of the screen. It's not completely visible tough but we can see the Letters "TR" and "B". When zooming in and out rapidly  by using the zoom function of the Browser we could see the "TRUE BIX" on the book flashing for a short time.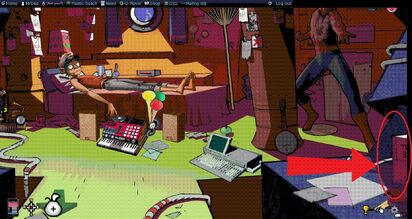 So the true bix is something 2D is reading about.
Furthermore, Damon Albarn,singer from Blur and Creator of Gorillaz, sang in his song "Country House"  the Lyrics:
"He doesn't drink, smoke, love."
Which turned out to be the second property of a True bix :
"Nor drugs or sexes..."
Additionally, the True Bix is described as a person, who has
"Most assuredly not all his teeth."
which is another similarity to 2D, who has his both front teeth inside of his head after the second car accident with murdoc when 2D was in coma. (Rise of the Orge).
Further information on the True Bix and it's relation to Gorillaz have not yet been discovered.
Ad blocker interference detected!
Wikia is a free-to-use site that makes money from advertising. We have a modified experience for viewers using ad blockers

Wikia is not accessible if you've made further modifications. Remove the custom ad blocker rule(s) and the page will load as expected.