Tomorrow Comes Today is the third track of Gorillaz (album), first released on the Tomorrow Comes Today EP in late 2000, and re-issued as the album's final UK single in 2002.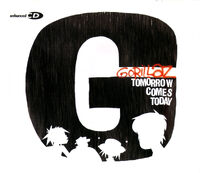 Information
The beginning of 2002 saw Gorillaz cultural stock in the UK still on a high with award nominations and notably the appearance at the UK BRIT awards, opening the show. To remind the public that the album was still out there, a single was required. Tomorrow Comes Today, although released previously as the lead track on EP was chosen as there was a video readily available, and also because the original release had not made much impact so it would be new to most people. The biggest treats for the fans on the package were probably the revised Gorillaz biographies and a new original B-side, 'Film Music' a mischevious title which tied in with the Gorillaz movie Damon and Jamie were talking up to any interviewer who'd listen (and, Gorillaz having conquered the world by this point, these were not few in number). As this is the only original B-Side not compiled on any version of G-Sides, the inclusion of 'Film Music' also makes this release more desirable for collectors.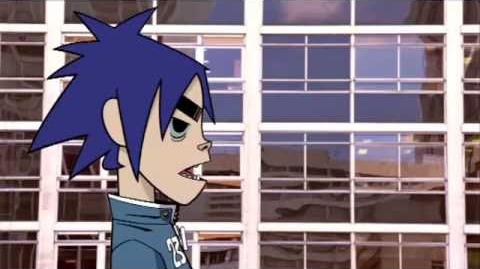 Lyrics
Everybody's here with me
(We) got no camera to see Don't think I'm all in this world The camera won't let me roll And the verdict doesn't love our soul The digital won't let me go
Yeah yeah yeah I'll pay (yeah yeah yeah) When tomorrow Tomorrow comes today
Stereo I want it on It's taken me far too long Don't think I'm all in this world I don't think I'll be here too long I don't think I'll be here too long I don't think I'll be here too long
Yeah yeah yeah I'll pay When tomorrow
Tomorrow comes today
UK Formats
Enhanced CD
1. Tomorrow Comes Today
2. Film Music
3. Tomorrow Dub
4. Tomorrow Comes Today (Video)
DVD
1. Tomorrow Comes Today (Video)
2. Film Music (Audio)
3. Tomorrow Dub (Audio)
4. Jump The Gut Pt. 1 (Video)
5. Jump The Gut Pt. 2 (Video)
12"
A1. Tomorrow Comes Today
A2. Tomorrow Dub
B. Film Music (Mode Remix)
Release dates and chart positions
UK: 25/02/02 – highest chart position: 33
Trivia
This track is listed as the second track on the un-mastered version of the Gorillaz album.

This is also one of the tracks to remain unchanged prior to its final release.
Ad blocker interference detected!
Wikia is a free-to-use site that makes money from advertising. We have a modified experience for viewers using ad blockers

Wikia is not accessible if you've made further modifications. Remove the custom ad blocker rule(s) and the page will load as expected.