Tomorrow Comes Today EP is Gorillaz' first ever commerical release.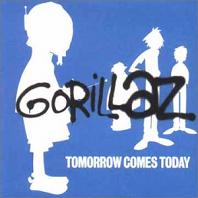 Information
The UK issue of the Tomorrow Comes Today EP, realesed November 27, 2000, was the first commercial Gorillaz release. Having 4 tracks, it was ineligible for the UK singles charts (which then had a '3 original track' limit) and was thus classified an EP. The EP had virtually no promotion at the time of release. The three B-sides (unheard at time of release) and the CD-ROM video of 'Tomorrow Comes Today' rounded off an excellent package showing many sides of this new act.

Basic Tracklisting
1.Tomorrow Comes Today [3:14]
2 Rock the House [4:09]
3. Latin Simone [3:39]
4. 12D3 [3:24]
5. Tomorrow Comes Today (Enhanced Video) [3:23]
Release dates and chart positions
UK : 27/11/00 – highest chart position: not chart eligible
Ad blocker interference detected!
Wikia is a free-to-use site that makes money from advertising. We have a modified experience for viewers using ad blockers

Wikia is not accessible if you've made further modifications. Remove the custom ad blocker rule(s) and the page will load as expected.