It's finally 2016, and you know what that means?
Phase 4 Gorillaz album!!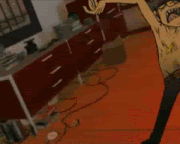 More artwork has been released by Jamie Hewlett on Instagram and its l👀king pretty good!
Now all we need to know is the name of the album and a release date. If anyone finds a possible name and/or date, please leave it down below with a link to where you found it (so there is proof and I know you're not lying 😉.) Thank you.
I can't wait for this album's release!! It's going to be amazing!!!!
Ad blocker interference detected!
Wikia is a free-to-use site that makes money from advertising. We have a modified experience for viewers using ad blockers

Wikia is not accessible if you've made further modifications. Remove the custom ad blocker rule(s) and the page will load as expected.