Noisa
Hair- Short, Black and Long bangs covering eyes (almost like Noodles)
Eyes- Fully White, mostly hidden
Age- 26
birthday- Feb 3
Nose- much smaller but shaped like Noodle's
Mouth- Same as Noodle's
(they r pretty much twins)
missing 1 tooth in the right top row in the front.
Loves 2-d as a brother but secretly as a crush ;'3
Plays the guitar and violin, a little bit of singing
has a Japanese accent (strong)
words she can say- 2-d as= tew-deeha, Noodle= Nootel, Murdoc= Mur-toc, Russel= Roos :3, Noisa= Noo-sha :)
Sounds like- https://www.youtube.com/watch?

03:43

【Lizz Robinett】On Melancholy Hill (Gorillaz)【Vocal Cover】

v=S90f4g7kQkc
Personality- Eerie, quiet, energetic, sweet, sometimes sarcastic, softhearted, (usually bullied by Murdoc), Scared but only of Murdoc >:(, Doesn't really look for attention, loves snuggles and her bunny stuffed animal that 2-d gave her when she was 9 :o
Backstory- ((THIS IS ALL MADE UP, IT IS JUST MY OWN MADE UP CHARACTER :D )) ------>
--> When Noodle was dropped off at the doorstep of the gorillaz, Noisa (who was 9) was a little late and was given just a day after, that is never said though because Noodle usually takes the spot light of Noisa. (Sorry Noisa put that in....) One night she was wondering around looking for Noodle in her slippers and eeyore onesie, she was lost and ended up knocking on every door. Of course, she knocked on Gorillaz door. 2-d answered and gave her this questioned look. He brought her in and told her Noodle was upstairs. Noisa ran up and hugged her sister. 2-d always showed most attention to Noodle... but secretly always loved Noisa. She was always quiet and just in her room sleeping, watching tv or snuggling with 2-d or Murdoc ((and this was when he wouldn't beat her up)) When she turned 15 she started getting more attention, but also the yelling from Murdoc. Once she turned 25 (now) is when she started to love 2-d, as he did the same to her. Russel though, was always the best ''father'' to her :) Noisa never complains about murdoc hurting her, 2-d giving attention to noodle, or never singing or playing in the band. She just loves to know that she has secret talent and a FAMILY. --->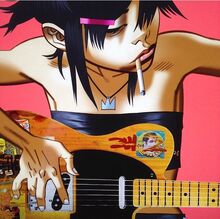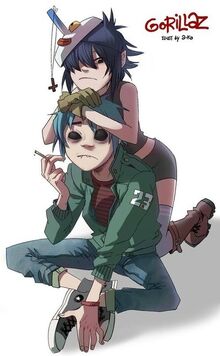 ((very rare photos of Noisa))
I hope you enjoyed!!!!! Sometimes when i role-play, i use Noisa, but also Noodle :3 Please message me if u want to Role-play. Thanks so much!!!
Ad blocker interference detected!
Wikia is a free-to-use site that makes money from advertising. We have a modified experience for viewers using ad blockers

Wikia is not accessible if you've made further modifications. Remove the custom ad blocker rule(s) and the page will load as expected.