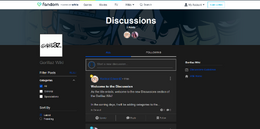 To coincide with the release of Humanz, the Discussions section is finally live! You can check it out HERE or by using the link in the top navigation bar!
As for the album itself, I haven't purchased it yet but, I'm planning to sometime this week!
For those of you that aren't too familiar with Discussions just yet, I'll share some of the features with you. The Discussions serves a similar role to the Forums but, with a few new features!
To find out more about the cool stuff offered in Discussions, check out the Discussions Help page: HERE
Ad blocker interference detected!
Wikia is a free-to-use site that makes money from advertising. We have a modified experience for viewers using ad blockers

Wikia is not accessible if you've made further modifications. Remove the custom ad blocker rule(s) and the page will load as expected.