We Are The Dury
is a unreleased interview CD by
Gorillaz
.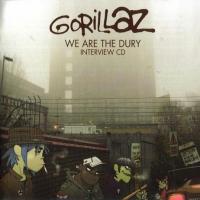 This CD was sent out in all territories from April - May 2005 in preparation for the "Demon Days" album launch. It was very different to the first Gorillaz interview release, in that the answers to the questions were more in-depth and discursive. The running time of all the tracks adds up to almost an hour. The voice acting is also much improved from Phase One. The Gorillaz dialogue was 'spin doctored', i.e. scripted, by Gorillaz live drummer and long-time Damon Albarn associate Cass Browne (who has Noodle praise Russel in the script as the 'world's best live drummer!"). CD comes in a standard jewel case with a booklet containing the questions to the Gorillaz' answers.
Release dates and chart positions
Never commercially released. Circulated in the UK for promotional purposes in April / May 2005
Audio Video
Ad blocker interference detected!
Wikia is a free-to-use site that makes money from advertising. We have a modified experience for viewers using ad blockers

Wikia is not accessible if you've made further modifications. Remove the custom ad blocker rule(s) and the page will load as expected.