Zombie Flesh Eaters
Talk

0
234pages on
this wiki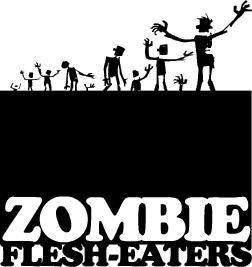 Biography
Edit
Zombie Flesh Eaters was founded in 2000 (they share their name with a 1979 Lucio Fulci zombie film of the same name). Initially Jamie had recruited just Matt Watkins but it soon became clear the project would need more hands and ideas, and Matt got his brother Tim in to work on the technical aspects of the website, and Kate McLauchlin was working in the same studio as Lucy McLauchlin, Matt's (then? current?) girlfriend and they brought her in as a graphic desginer. Later more personnel were brought in. Gorillaz work took up pretty much all their time in 2000, 2001 and early 2002, but after that they worked on a variety of other projects including interactive menus for a John Lennon DVD and on promotional work for Freq Nasty, an artist on the Skint label.
Role in the Gorillaz Project
Edit
Zombie Flesh Eaters is the company that was set up by Jamie Hewlett specifically to cater to the heavy work demands of the Gorillaz project. The members of Zombie Flesh Eaters, as of 2002, are:- Jamie Hewlett (Director), Mat Wakeham (Creative Director), Susan Oppong-Wiafe, Matt Watkins (webmaster), Tim Watkins ('Functionality Aesthetician' i.e. web programming), Kate McLauchlan (core graphic designer), Tom Thorne (business manager) and Mike Robinson. The Zombie Flesh Eaters realise Jamie's vision for the visual side of the Gorillaz project. Projects that Zombie Flesh Eaters have undertaken are: constructing, designing and maintaining all apsects of the Gorillaz Website, writing the responses to email interviews with the Gorillaz that are published in magazines, designing the sleeves for Gorillaz records, making the official Gorillaz postings on the Gorillaz messageboards, performing the role of Gorillaz in the official chats, drawing all the Gorillaz official artwork and pictures, and designing and doing a lot of work for the Gorillaz DVD, 'Celebrity Take Down'. Their offices are right next to Damon Albarn's Studio 13.
External links
Edit